"As Beautiful As You", now for sale on Amazon:
https://www.amazon.com/dp/B01LFVISGU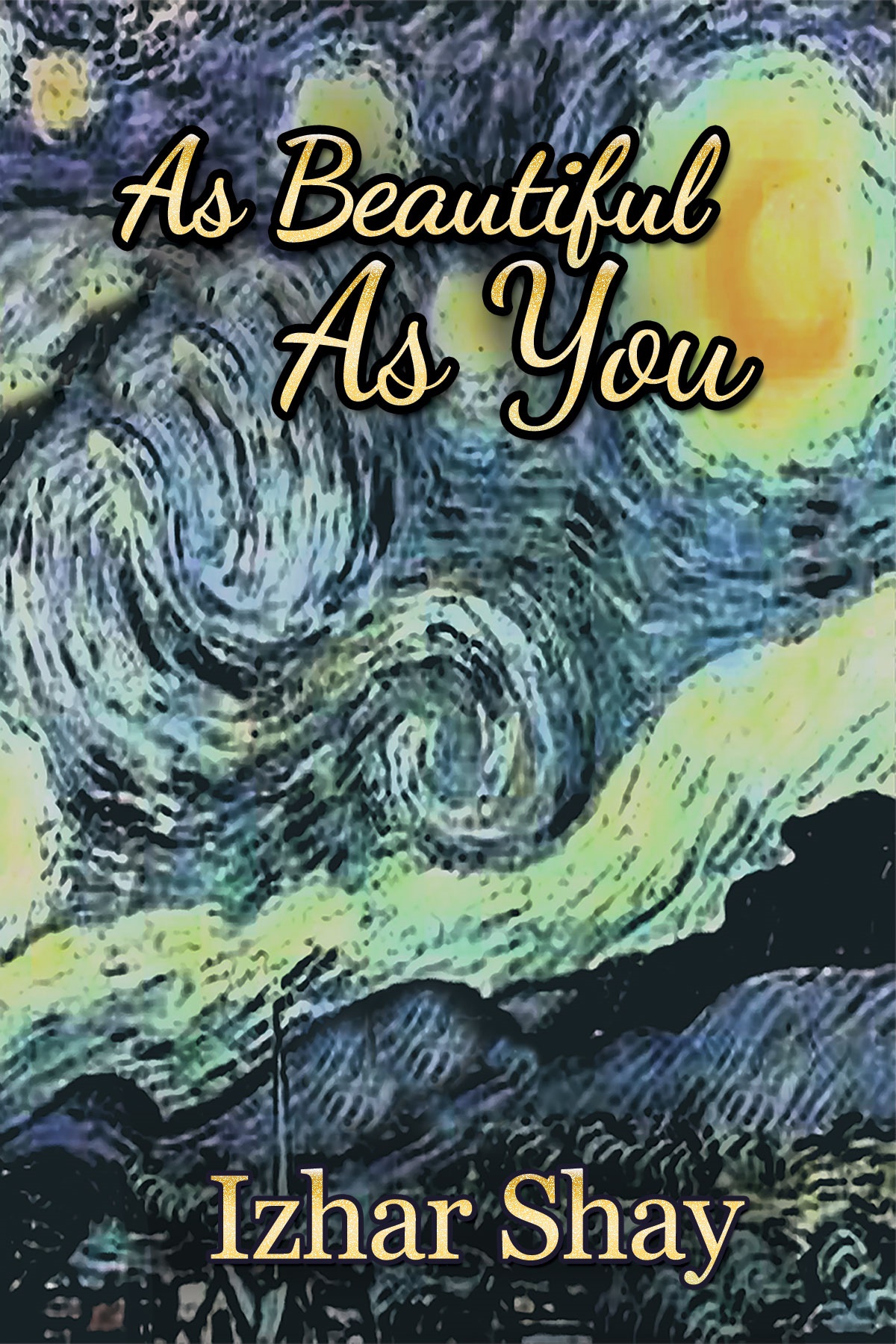 - Chapter 1 -

My favorite song in the whole world is "Vincent." I once burned it on a CD and gave it to Gili as a present. I put a white round CD sticker on the disc and wanted to write, "To Gili from Leeron with Love," but because I am not that good with meticulous things and I don't know how to plan ahead, I didn't have enough room left for the "with love." So I wrote "To Gili" on the top, above the hole, and then added at the bottom, under the hole, "from Leeron," and I only had a little room left so I just added "with –" and drew a little heart. I wasn't sure if I should decorate it and I didn't have much time left, so I only added a few stars in blue and gray and they got a little smeared and mixed in with Gili's name. I didn't think it was too much of a problem if I left it that way.

Mom was busy with her last client for the evening, so I knew I didn't have much time. I left through the kitchen door into the yard, quickly running on the lawn behind the house and jumping over where there is a loophole in the fence that makes it a little lower. I noticed only later that I had cut myself slightly on the fence, but I didn't see it at first, because I'm not that good with details. It would take me twenty minutes to walk from our house to Gili's, but this time I ran because I had little time. I knew the way to her off by heart and I could reach her house with my eyes shut, so I didn't mind the dark. When I reached Gili's, the light in the staircase was out as usual. I stopped for a moment to check the mailboxes, because I wanted to see if Avram, the old neighbor, finally kept his promise about fixing them, but they were still broken and dirty. "Gili Or Hadash" was handwritten on Gili's mailbox and next to it was a round sticker that belonged to "Ha'aretz" newspaper. Gili called them once to tell them she wasn't even on their list, and that the guy who had lived there before her was the subscriber, and he's been gone a long time, but they kept on delivering her the newspaper every morning. I once said she could peel off that sticker and that's it, but she laughed and said that if something good comes her way for once, why fight it? I loved hearing her laugh, so I didn't say anything.

Gili's doorbell didn't usually work, so I knocked on the door right away. I stood waiting on the second floor in the dark, because there was no light in the stairwell. I had to knock a few times, each time louder, until I heard her coming to the door and asking "who's there?"
"It's me, Leeron."
"Leeron, what happened?"
"I have something for you, can you open the door?"
"Leeron, it's very late. Where's your mother?"
"Gili, open up, I brought you a surprise."

I wasn't offended that she didn't open the door right away. I loved her and I figured there was probably a good reason. It got quiet and then I heard footsteps behind the door and the rattle of keys, then the lock, turning slowly three times, till the door opened. Because I was standing in the dark, I got a little blinded by the light in the apartment so I covered my eyes.

"Leeron! You're drenched! My poor thing, what happened?"

I could hardly see her because my glasses were covered with steam. I was soaking wet from head to toe, and I suddenly felt like I was actually swimming in the water. Cold drops trickled from my hair down my neck and into my sweatshirt, washing my whole body.

"Leeron, did something happen? Where's your coat? What made you leave your house in such a storm?"
"I prepared a little surprise for you and I couldn't wait. I didn't think I needed a coat. Do you want see it?"

I was a little surprised that she didn't let me in right away. I suddenly got cold and felt like my whole body was shaking. My right leg burned under my knee, and when I looked down I saw that my pants were torn there and stained with blood, which kept dripping and mixing with the rain water. Mom's going to kill me.
I was waiting for her to invite me in while I was standing in the hallway, freezing cold. The storm outside only got stronger and there was a bunch of thunders. I couldn't see the lightening because I was standing in a closed hallway on the second floor, and Gili's living room window was the furthest away from the door.

She still wasn't sure.
"Leeron, does your mother know you're here?"
"No. I brought you a present. Do you want to see it?"

Because she didn't answer again, I took off my glasses and tried to wipe them off with my sweatshirt. But my hands were shaking and it was so wet it didn't work and my glasses just got wetter, so now they were both steamy and wet. I put them on and tried looking Gili in the eyes. But she was under the light and I was in the dark and my glasses were full of steam and water, so I couldn't really see anything. I kept quiet, trying to stop the shivers in my body. I got cold and suddenly I was sad.

"Never mind, I'll give it to you in some other time." I started walking away. I was seven steps away from the top of the stairs and I was careful not to slip or bump into something in the dark.

"Leeron?"
I stopped, but I didn't answer her.
"Are you mad at me?"
I didn't answer.
"Come inside, I'm sorry, it's just that tonight was a big mess."
"I can bring it some other time."
"No, no, no way! Now I'm really curious. You think I'm going to miss a surprise from my boyfriend?

I always thought it was funny that she called me her boyfriend. She was twenty three and I was not even eleven yet, but still, she liked calling me her boyfriend. Even now, I smiled a little as I turned around to her.

"Are you sure?"
"Positive! C'mon, get inside now."

I walked into the apartment and was blinded. I closed my eyes for maybe a minute, and then slowly opened them. Good thing I had waited outside her apartment, because there was already a little puddle of water dripping on the floor around me. I stood watching the water dripping, one drop, then another, trickling on the floor in all directions. Gili gave me a dry cloth, or maybe it was a kitchen towel, I'm not sure.

"Leeron, wipe off your glasses so you can see something. I'm going to look for a towel and some dry clothes for you. Let's see what I come up with."

Her apartment was small – a tiny living room right off the entrance, with a kitchen on the right and sort of in the middle of the living room, on the wall opposite the door, there was a hallway that led to her bedroom with a bathroom next to it. And that's it. There was no bathtub, only a crammed shower and a toilet all in one room. I always thought it was strange she didn't have a tub, but I never mentioned it. I thought she might be offended if I asked.

I could hear her looking for something for me to wear in her closet inside her bedroom. Meanwhile, I stood by the heater in the living room, wiping off my glasses. Instead of coming back into the living room, she went into the bathroom and turned on the sink tap. She was in there for ten minutes at least, and I started getting annoyed. When she finally came back, I could see properly again. I suddenly got scared. I stood in front of her, staring at her face and saying nothing.

"It's okay, Leeron."
"What happened to you?"
"Nothing, the power just went out and I bumped into something in the living room and fell on the arm of the chair. I don't have much luck when I fall; I told you that before, didn't I?"
"Does it hurt real bad?"
"It's okay, nothing really. You won't even see it in a few days."

Her left eye was almost completely shut, and around it was a thick circle that was black, dark blue and a little purple and yellow. That whole side of her face was totally swollen, and I thought I saw some signs of blood that she couldn't wash off in the bathroom. Only somebody blind like me wouldn't notice something like that. I just stood there saying nothing. She was quiet too. She gave me a white T-shirt that she found for me in her closet, but I didn't take it.

"It looks very painful."
"It's okay Leeron, trust me."
"He came to see you. That man from the soccer game."
"Forget about it, Leeron, I told you what happened. It's nothing. Hey, what do you have for me here, I have to see it!"

I had to change subjects. I wanted to tell her exactly what I thought, but I said nothing; I pulled hard on the zipper of my wet sweatshirt and took out the CD. Good thing I put it in a plastic bag before I left home. I took two steps towards her and gave her the bag. Then I walked back to the heater. It felt nice and warm next to it.

Gili looked at the bag, opened it and pulled out the CD. I could tell she was reading what I wrote very carefully. Her face didn't change. She didn't even smile, I'm sure about this. A little while later, she started saying something, but stopped, then started again, and stopped again.

"Play it, there's only one song on it."
"Maybe later? I want you to get dry, we don't want you to get sick…I don't want my boyfriend sick!" Her voice was still shaky.
"I'm not doing anything till you play it."

She didn't have a choice. She went over to her stereo and changed the disc inside for mine. A few moments later "Vincent" started to play. I closed my eyes and thought about the famous painter, whom no one understood. No one listened to him, so why would they understand. Maybe now they're listening. When I opened my eyes again I couldn't find Gili for a moment. I didn't notice she sat down on the futon chair under the living room window. She had her back to me and her face was glued to the window, staring outside. There weren't any stars out that night for sure. Her whole body was shaking and I knew she was crying.

"Gili?"
"Gili, are you okay?"

She lifted one hand to say that she was fine. After a few minutes, I went to the door, which was a little open the whole time. I walked very quietly out into the dark hallway and waited a little for my eyes to get used to the dark again. I almost went back inside, just for a second, to say a proper goodbye, and that I'm sorry if I had made her sad, but I felt it wasn't right.

The day they told me Gili disappeared and nobody had seen her, I suddenly got a weird feeling like I missed something, just like that night with all that rain and storm outside. I went down the stairs and stopped downstairs for a minute, because all of a sudden the thunder and lightening scared me a little. I ran all the way back home. The rain only got stronger. It might have been the end of winter, but we hadn't had a storm like that in a very long time.